Barristertime puts you in charge
Designed for and tested by barristers.
Powerful time recording for barristers
Barristertime is powerful time recording software that helps you record and bill every minute of your work and keep records that even your clerks can't complain about.
Easy to use and intuitive, Barristertime will record, bill and organise your work.
There is nothing to install on your pc and you can access it securely from anywhere. Unlike the hard-to-use software in many chambers diary systems, Barristertime is designed with the user in mind and keeping up to date is easy and quick.
Just to say that I am continuing to find this an excellent product. It undoubtedly improves my billing, by which I mean both that I am more efficient at providing times for the clerks and that I avoid missing work I have done. Richard Hitchcock QC - OuterTemple Chambers

It is an excellent product and still improving, which is even better. Pensions Specialist

Just to say that I found this invaluable. QC

I cannot believe the extent to which I have been underbilling and the pleasure of being able to deal with my clerks queries on fees in two minutes rather than searching through piles of emails. Leading Junior

Simple to use, it has made it so much easier properly to record times and work to targets. Andrew Short QC
Click to start
One click will launch a timer for any of your active cases, you can choose what kind of work you are doing, add a note, even edit the work later if you wish.
It's designed to work with your habits not force you to work another way. You can run timers throughout the day, or add in work after it is done.

Clear visual indicators show your progress at a glance. The same colours show work done on a weekly and monthly calendar.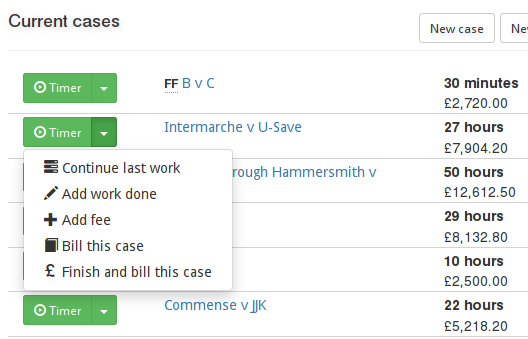 ---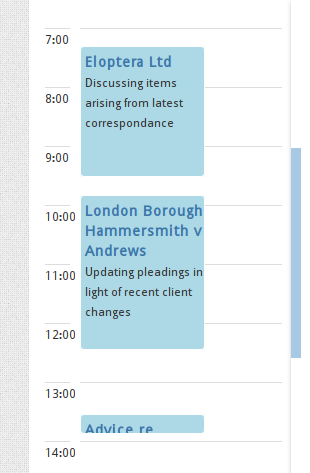 At your fingertips
The home page updates as you add work, showing your days work, fees and targets. Click on entries to edit them, click on a day to go to that days' history.
Hours and fees update automatically as you work. Billing targets, if you choose to use them, update too.

---
Bill as you choose
You can bill by week, month or any date range as well as by case. Your fees clerks, or anyone else you choose will receive a clear account of the work you have done, making it easy to bill your work in a timely fashion.
Barristertime also keeps a record of your solicitors, clients and cases giving you hours and totals at a glance. You have an easy overview of your cases, with hours, fees and contact details at a glance. Organise your cases by deciding which to keep active with a single click.
You can add in brief fees and refreshers if you like, giving you a complete overview of your practice's income.
If you wish to use billing targets you can turn on weekly, monthly or annual targets whenever you like. Clear indicators will show your progress in making your targets.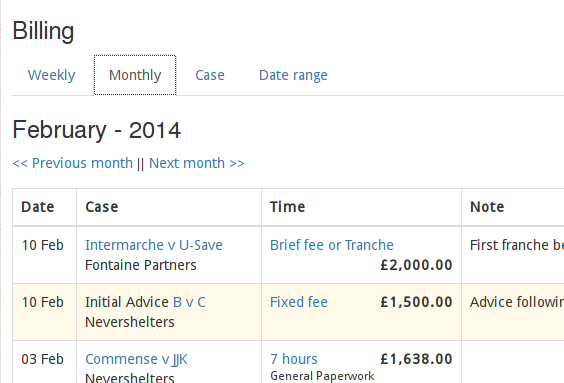 ---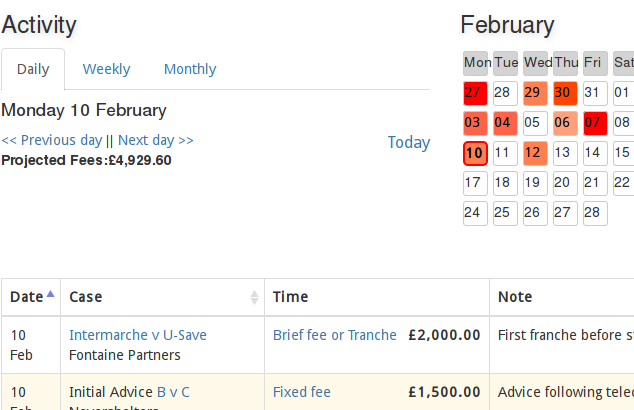 Full history
You can look through your history day by day, week by week and month by month any time you like to gain insight into your practice, clients and cases.
You can also view your billing history for the year, and identify items not yet billed.
You are in charge, you can choose to have billing targets, choose to have fee estimates, choose to use rounding, and choose when and to whom to send your billing reports.
You can set a billing rate by solicitor or by case and you can choose to bill a case or an individual piece of work as you like.
---
Click here to request a free trial.
Or contact us if you'd like to have Barristertime across your chambers or workgroup - discounts apply for more than 10 users.
Barristertime is currently priced at £70 p.a. per user, for an introductory period.
If you cancel you can request a copy of all your data which we will be happy to provide.
Constantly improving
Barristertime has been extensively tested by practicing barristers, and is continually being improved. If you have a feature you'd like to see or improve let us know and we'll try to implement it.
All features are a click or two away, if you've tried other time recording software, you'll be surprised at how easy it is to use.
Compared to some rival software Barristertime is great value, and tries to make time recording a pleasure, rather than a chore.
Works across all major browsers, tablets and phones. You can access your account anywhere. Details of your work are encrypted, only unlocking when you log in. The system is designed to be as secure as possible, just make sure you choose a good password to keep you account secure.
---
Controlled by you
We recognise that barristers are in charge of their practices and our software is build around that idea. Our systems are designed with you in mind, rather than as a management tool for controlling the work done by employees. We hope that Barristertime will increase your billing, and make you feel good about the time you spend working.
Our goal is to provide high-quality, fairly priced services to barristers. As a small high earning profession, barristers are being overcharged for their IT services. We believe that good quality, bespoke software shouldn't be high priced. Unlike our rivals our prices are published and aren't hidden away in your chambers percentage.
Privacy
This is a subscription service, no personal data is sold, shared or used in any way.
Your personal details are encrypted, details of work you do and clients you have are encrypted. We cannot see any of your data. We cannot alter any of your data. Your data is yours, we will be happy to send you a copy of all of it at any time. If you cancel your subscription all your information will be deleted.
We don't use any tracking cookies, adscripts, image trackers, facebook likes, tweet links or anything similar. Google analytics stops once you have logged in. Cookies are only used to keep you logged in and allow you to continue work already started.
We don't keep or know any of your payment details. We don't store any of your payment details, bank details or your address.
We won't sell your email address or contact you except to inform you about your subscription.